Chapter 6: Scholarship, Research, and Libraries
---
6.1 Scholarship Expectations for Faculty
Scholarship is one of the primary areas of emphasis of Emory University and all faculty are expected to demonstrate some accomplishment in scholarly endeavors. Scholarship refers to development and dissemination of new knowledge or of new insights into existing knowledge; inquiry undertaken that establishes facts, develops principles, or illuminates or answers questions within an area of intellectual pursuit through the systematic collection of evidence that can be subjected to replication, verification, or critical evaluation by persons other than the original researcher; accretion of knowledge using laboratory, clinical, or other research tools; original works of literature or art, including performance, that shape discourse in or about those fields; innovative conceptualizations or novel solutions to problems; research on and application of new concepts in education; and competent mastery of one or more of the academic disciplines resulting from continued systematic study.  
Scholarly products such as publications in refereed journals, book publications, research funding awards, and public refereed or juried performances or exhibitions of artistic works are the primary evidence of scholarship. Regardless of its form, the faculty member's scholarship should provide promise of contribution to enhancing the "common good" and of continued creativity. All members of the faculty are expected to conduct their scholarly research and publish the findings of that research consistent with the highest standards of ethical conduct, truth, and accuracy and with an emphasis on quality.  
6.2 Research at Emory
Emory is one of the nation's leading research universities. Faculty, students, and staff pursue research with imagination, diligence, and energy in Emory's nine schools and colleges; at research centers and institutes based on campus; and through interdisciplinary programs, partnerships, and affiliations. This enterprising network is supported by administrative offices that manage related issues such as safety, compliance, technology, and grants and finance.  
Over the last few decades, Emory has shown dramatic growth in research funding and associated scholarly products such as publications and innovation, income from patents and licenses, the establishment of research centers of excellence, and the number of startup companies. Many external and internal factors have contributed to Emory's substantial growth. The university has benefited greatly from a consistent emphasis on the arts and sciences, strength and vitality of all the professional schools, and interdisciplinary scholarship.  
6.3 Research Administration
The Office of Research Administration (ORA) supports the research enterprise at Emory, from the beginning to completion. One goal of ORA is to foster an atmosphere where wonder and curiosity are richly rewarded with investigative support. The ORA understands that the nature of research changes continuously, with more interdisciplinary cooperation and a more complex set of laws and administrative procedures. From the inception of an idea to its expression and culmination, ORA provides a bridge that spans pre-award to post-award needs. Within ORA are several administrative units:  
6.3.A Office of Sponsored Programs (OSP)
The Office of Sponsored Programs (OSP) collaborates with the Emory community to identify, obtain and administer extramural funding in support of the mission of the university. OSP processes proposals, reviews, negotiates (where applicable) and accepts non-industry grant and contract awards, aids in award administration, facilitates the completion of project requirements related to reporting and continuation funding, and facilitates project closeout. OSP provides expert assistance to faculty with all aspects of pre-award and non-financial post-award grants and contracts management needs. To assist faculty in identifying funding opportunities, OSP also subscribes to a nation-wide funding opportunities database: GrantForward. Links to this database are available for the use of the Emory research community.  
OSP Website
6.3.B Research Administration Services (RAS)
Research Administration Services (RAS) is comprised of nine units as well as a Central / Operations team. RAS is designed to support Emory's research mission by providing pre- and post-award services to faculty at the school and unit level. The RAS units are staffed by professional research administrators who serve as a single point of contact for the submission and administration of sponsored awards. Pre-award services include assistance with proposal preparation, budget development, routing proposals for submission, and Just-in-Time (JIT) process management. Post-award functions include reconciliation and projection of expenses, preparation of financial reports, effort certification pre-review, requesting sub-awards, invoicing (for some award types), facilitating award changes, and financial close out of awards. The RAS Central / Operations team collaborates with RAS unit leadership, other ORA offices, and Schools / Units to manage and execute projects and provide operations support for pre- and post-award research administration operations. The website provides RAS contact information and an overview of services provided.  
RAS Website
6.3.C Office of Research Development (ORD)
The Office of Research Development (ORD) coordinates university-wide research development and collaboration activities with an emphasis on scholarship that crosses multiple academic units. Working with other units, ORD provides support and programming to facilitate research partnerships, identify funding opportunities, form interdisciplinary collaborations, and pursue large training and center-level awards. Additionally, ORD coordinates the university's foreign influence program and risk management for research issues. 
6.3.D Conflict of Interest Office (COI)
The Conflict of Interest Office oversees administration and enforcement of policies and regulations on conflict of interest in research (See Policy 7.7). The Office also reviews Institutional Conflicts of Interest involving Human Subject Research (see Policy 7.24).  Note that all Emory investigators involved with research must disclose significant financial interests through a centralized disclosure system (ecoi.emory.edu).    
Under school and university policies, units within the Dean's Offices oversee faculty arrangements with external entities, such as the biomedical industry, law firms, and other academic institutions, and coordinate with the COI-Research Office when appropriate. The Emory Healthcare Compliance Office oversees conflicts of interest in clinical practice and operations and coordinates with the COI-Research Office when appropriate. Faculty may consult with the deans and directors of the schools and colleges and Emory Healthcare or visit their websites for more information. More information on the policies and offices that oversee conflicts of commitment and conflicts of interest in areas other than research is provided in Part D, Policies below. The website includes links to frequently asked questions, policies, and forms.  
COI Website
6.3.E Office of Technology Transfer (OTT)
The Office of Technology Transfer (OTT) is charged with the duty to protect and transfer the intellectual property of Emory University through commercialization providing benefit to the university and society. This office provides multiple services to the university community to help navigate the increasingly complex arenas surrounding intellectual property rights, entrepreneurial endeavors, and business finance. OTT also provides contract support for industry contracts, similar to OSP, and is charged with facilitating all non-monetary awards (e.g., material transfer agreements, data0use agreements, etc.) The website provides more information for faculty who wish to disclose a discovery, discuss patenting and other intellectual property issues, form a company, or engage in other similar activities. 
OTT Website
6.3.F Research Grants and Contracts (RGC)
The Office of Research Grants and Contracts (RGC) collaborates with faculty and RAS staff to provide post-award support and guidance for all sponsored programs activities. RGC provides central oversight for the post-award fiscal activities of all sponsored projects including award setup, invoicing, financial reporting and award closeout. The RGC website provides information related to post award contacts, the sponsored projects handbook, standard operating procedures (job aids), and other related post award resources.
RGC Website
6.3.G Office for Clinical Research (OCR)
The Office for Clinical Research (OCR) is charged with the mission of organizing and enhancing operational processes that support the efforts of the clinical research team and to facilitate the timely initiation, execution, management, and completion of clinical trials and clinical research at Emory, all in compliance with federal, state, and Emory laws, regulations, and policies. OCR offers many services to support clinical research within its six functionally distinct teams outlined in the table below: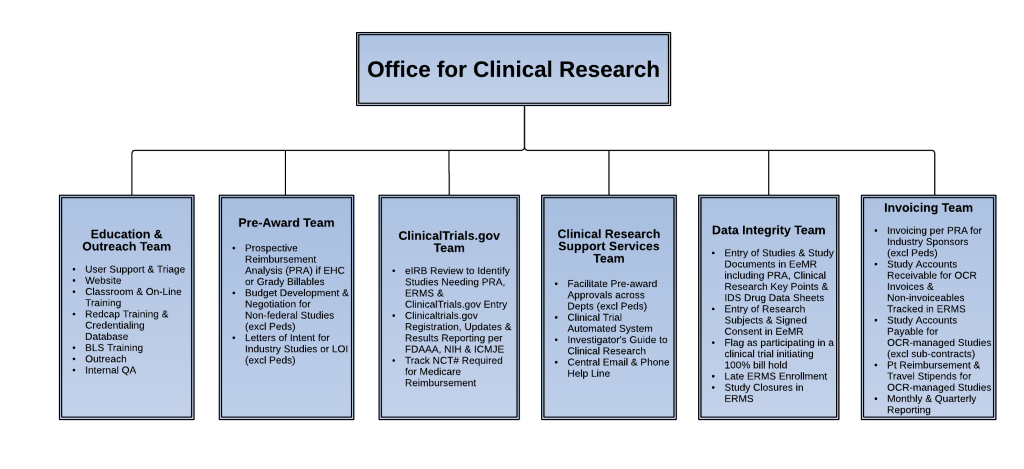 OCR Website
6.3.H Institutional Review Board (IRB)
The Emory Institutional Review Board (IRB) is a research oversight committee charged with assuring that appropriate steps are taken to protect the rights and welfare of human subjects in sociobehavioral and biomedical research. The website includes staff contacts; IRB policies and procedures; extensive guidance, forms and tools; required protocol and consent form templates; links to required training, and the eIRB online submission system portal with comprehensive help content. For multisite projects reviewed by an external IRB, there are instructions and tools as well. The IRB website  also offers a self-service tool for determining whether IRB review is required for your project. Faculty are encouraged to contact the IRB if interested in serving on one of the review boards affiliated with the IRB.   
IRB Website
6.3.I Institutional Animal Care and Use Committee (IACUC)
The Emory Institutional Animal Care and Use Committee (IACUC) is a research oversight committee charged with the responsibility of ensuring the proper care, use, and humane treatment of animals used in research, teaching and testing. The IACUC also provides assistance to investigators in fulfilling their obligation to plan and conduct animal experiments in accord with the highest scientific, humane, and ethical principles. Extensive information about necessary processes and rules is available on the website. Emory University has a Position Statement on the Care and Use of Animals in Research that guides the work of this committee and all animal research conducted at the institution.  
IACUC Website
6.3.J Division of Animal Resources (DAR)
The Division of Animal Resources is the administrative unit of the university that is responsible for programs of animal care, and includes skilled veterinarian that specialize in animal treatment and oversight, husbandry teams that provide a quality living arrangement for animals use in research, and a team of professionals that provide expert consultation on the procedures and use of laboratory animals in research. Visit the website to learn more about the DAR related services.  
DAR Website
6.3.K Environmental Health and Safety Office (EHSO)
The Environmental Health and Safety Office (EHSO) provides comprehensive environmental health and safety programs to support Emory University and Emory University Healthcare including research, teaching, and operations.  EHSO provides expertise and regulatory oversight for Environmental Compliance, Occupational Safety and Industrial Hygiene, Radiation Safety, and Research Safety. Services provided include, environmental compliance and occupational safety to chemical, radiation and biological controls that support research, emergency preparedness/response and business continuity.   
A team of highly qualified environmental health and safety (EHS) professionals manage risks associated with over 300 complex EHS regulations that impact the Emory community. EHSO is responsible for regulatory review and approval of research protocols using biological toxins, recombinant DNA or human tissues in collaboration with other divisions in the ORA; the collection, storage and disposal of chemical, radioactive and biohazardous wastes; oversight for the strict regulatory management and use of nuclear medicine and radiation-producing machines in both research and healthcare; preparing for and addressing serious communicable disease outbreaks; exposure monitoring; risk assessments, accident investigations; audits; and regulatory EHS training. Visit the EHSO website for more information related to this service and support of our research enterprise. 
EHSO Website
6.3.L Export Control Office (ECO)
The Export Control Office (ECO) is responsible for the development, implementation, monitoring, and coordination of University-wide policies and procedures designed to ensure compliance with the U.S. federal regulations on export controls. The export control regulations can impact several research and academic activities including conducting sponsored research, engaging in international collaborations, hosting international visitors and visiting scholars, international travel, employing foreign nationals (nonimmigrant employees), and shipping. ECO supports Emory's research enterprise, academic as well as business units in assessing their export controls compliance obligations and in developing compliance solutions. More information can be found on the ECO website. 
ECO Website
6.3.M Investigational Drug Service (IDS)
The Emory Investigational Drug Service (IDS) serves Emory principal investigators who conduct human subject research at Emory locations (such as the Emory University Hospital, The Emory Clinic, the Hope Clinic, Emory Midtown Hospital, Medical Office Tower, and Executive Park) and through Memoranda of Understanding at affiliated clinical sites (such as the Atlanta VA Medical Center, Grady Health System, and Children's Healthcare of Atlanta). It oversees and audits services provided by pharmacy staff in managing the use of investigational drugs in human subject research. Visit the IDS Websiteto learn more of this phenomenal resource. 
IDS Website
6.3.N Office of Strategic Operations for Research
The Office of Strategic Operations for Research is managed by the "Dragon Team" and is responsible for cross-functional continuous improvement throughout areas that impact research administration business functions. Their process improvement initiatives seek to address faculty concerns within the ORA, Finance, and IT departments, as well as other relevant operational needs. The team manages ongoing projects, conducts trainings to build operational efficiencies, and evaluates implementation strategies. Visit the Strategic Operations for Research websitefor more information about ORA strategic continuous quality improvement initiatives. 
6.3.O Office of Research Administration Information Technology (ORA-IT)
Research Administration Information Technology (ORA-IT) serves as a technology facilitator, intermediary, and project liaison on behalf of ORA departments with various third-party vendors and the University's central IT division (LITS). Staff work in close collaboration with each ORA unit to understand their day-to-day activities and long-term objectives related to enhancing IT infrastructure and processes to maximize service delivery. In addition, the team provides application support and management for approved divisional IT applications. ORA-IT partners with vendors to provide application support and management for eIRB, eIACUC, Cayuse (grant management software), Salesforce, eCOI, and other internal and external research administration related solutions.  
6.4 Libraries
Emory University offers faculty and students a variety of research opportunities through the library system. The library system functions under the direction of the dean to fulfill the mission: To develop distinctive collections, services, staff and facilities to preserve our intellectual heritage and advance the discovery and transmission of knowledge for students and scholars of today and tomorrow. The library website provides information about all the service and research resources. Specific libraries include: 
Additional Library Services
Our libraries also provide an array of other services. These include: online, searchable databases with information on full article citations, full-text articles, and references resources such as encyclopedias; support of the EndNote reference manager; and eJournals at Emory. Through interlibrary loan (ILL), members of the university community can access research materials not available in the Emory University libraries. Course Reserves allows faculty to reserve course-specific materials to be accessed by students electronically.