Yolanda Cooper Dean and University Librarian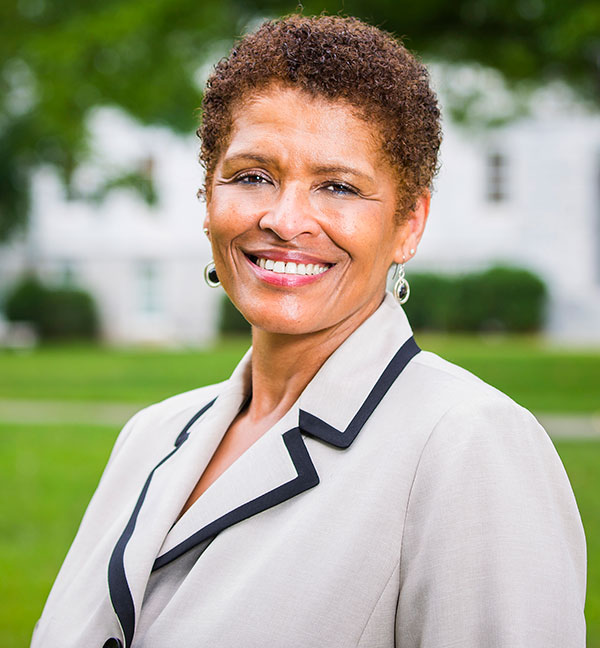 Visit Website
Contact Information
Mailing Address
Robert W. Woodruff Library
540 Asbury Circle
Atlanta, Georgia 30322
Email
yolanda.cooper@emory.edu
Phone
404 727-5103
Additional Websites
When I consider the goals of the One Emory: Engaged for Impact strategic framework, I recognize—with pride—the library's footprint in each of the pillars.
We have expanded our services to faculty through programs such as Teaching with Canvas, helping them build online initiatives and advance their teaching success. We made a new hire associated with student services, renovated level one at Woodruff Library to develop active learning space for undergraduates, and are collaborating with the Emory Edge and Emory Undergraduate Project (EmoryUP) initiatives. Regarding Atlanta, Emory increased its presence at the Decatur Book Festival this year, and we are in the second year of visiting area high schools with our exhibitions and doing more K–12 tours to expose young people to the libraries' collections.
I am leading an effort to rethink our organizational structure and establish broader efficiencies. And with a new website debuting, I will keep close tabs on its reception and assess how successfully it pushes out our services.
I continue to encourage a culture of innovation by funding staff projects that demonstrate a willingness to take risks. One of our current exhibitions—"How Might We? Innovation in the Libraries"—shines a well-deserved light not only on our own culture of creativity but on significant changes in the role of libraries during the past 150 years.
We will refine our student ambassador program; launch our digital library repository; continue to build and preserve the Oral History Program recently established in the Rose Library as well as provide educational resources and expertise for including oral histories in the curriculum; and, following Commencement, continue our master-planning work, this time on Woodruff's level two.
I am honored to be co-chairing the Task Force on Untold Stories and the Disenfranchised Populations in Emory's History. As co-chair of the recent search for our chief diversity officer, I gleaned much relevant information during those listening sessions across campus.
Selected Career Milestones
Led the construction and operationalization of the Library Services Center in collaboration with Georgia Institute of Technology, creating a shared collection for both institutions
Sponsored the development and implementation of university infrastructure to enhance discovery (ALMA), learning management (Canvas), and a more robust digital-library program (Samvera)
Co-chaired the search for Emory's chief diversity officer
Treasurer and chair-elect of the Board of Regents of the HathiTrust Digital Library, a partnership of academic and research institutions; the library contains millions of titles digitized from libraries around the world
Member of the Harvard University Board of Overseers, Visiting Committee to the Harvard College Library
Served as board president of the Association of Southeastern Research Libraries
Education
BGS and MLS, Indiana University
---
For those of us associated with the libraries and academic technology, our worlds have exploded. We play multiple and significant roles in strengthening the academic enterprise. For me, the degree of change and innovation keeps my interest and commitment high.